How do I get started in bull riding?
There is a lot to learn when it comes to riding bulls. The best way to learn is to go step-by-step from an expert that can teach in a way that makes the difficult concepts easier to understand. That is exactly what I try to do. I have created an online bull riding course called How To Bull Ride to help people like you who would like to learn as much as possible in an easy-to-follow system. My course also covers advanced topics for those of you that are already competing. The great thing about it is that you can go at your own pace and repeat the process as often as you want. You need to check it out for yourself!
If you're not quite ready for my course, I offer a ton of FREE resources to help you. Check out my articles, videos, and sign up for my email list to get plenty of good information.
When and where are your clinics?
I only do one or two clinics per year in Idaho, so sign up for my emails and I will let you know about my next clinic. I do offer private lessons. Email me at wiley@bullridercoach.com for more information.
How much does it cost to come to one of your clinics?
Tuition for a 2-day bull riding clinic is $400. This does not include travel and lodging.
What is the age group for your clinics?
The age limit at my regular bull riding clinics is 14 years and up. The age limit at my junior bull riding clinics is 7 to 14 years. Sign up for my emails and I will you know about my next clinic. I also offer private lessons. Email me at wiley@bullridercoach.com for more information about private lessons.
Do I need my own equipment at a clinic?
No, I have equipment you can use. However, you do need to bring your own cowboy boots.
Am I too old to ride bulls?
As in most sports, you have a better chance of becoming professional if you start at a young age. However, anyone can start at any age and be successful. How far you go depends on how hard you work (and your athletic ability). I would encourage to try new things no matter your age.
Can women ride bulls?
Of course! I have no problem working with women who want to become bull riders. I love to see women showing the men how tough and determined they are!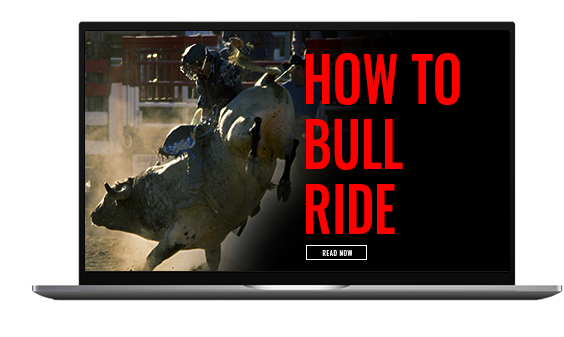 HOW TO BULL RIDE COURSE
Imagine being able to go step-by-step with Wiley as he teaches you the secrets he used to become a professional bull rider. He covers topics including mindset, fitness, technique, and practice strategies. This course is made for everyone, from the curious to the experienced.