At BullRiderCoach.com, Wiley Petersen provides instructional articles, videos, and training services to bull riders ranging from beginners to advanced skill levels. We help teach the fundamentals of bull riding, training, sports psychology, fitness, and business principles through the following types of services:
Bull Riding Clinics: We hold clinics for beginners, intermediate, and advanced bull riders where students will be taught everything they need to know to continue growing at their skill level.
Financial Advice: Basic financial advice to help you make the most of your bull riding career.
Fitness Training: Warm-ups, exercises, and stretches.
Analyze Rides: Watch videos of our students and other professional bull riders to see what they are doing right and wrong. You can also check out our YouTube Channel for bull rider training videos.
Training Drills: We teach our students proper training drills to do in preparation for competitions.
Media Training: We teach students how to talk to the media, give interviews, and speak competently.
Sponsorship Acquisition: Learn how to put a proposal together, find sponsors, and represent sponsors. BRC will also represent select riders as sports agents.
Visualization: We encourage everyone to practice visualizing their goals and success.
Goal Setting: We teach students how to set and achieve goals both in rodeo and in life.
Literature: Books, workbooks, and magazines pertaining to excelling in the sport of rodeo and life in general. We also have several free articles to read covering a variety of topics.
Media: Audiobooks, music, and podcasts to reinforce what we are teaching.
Business Management: Students will learn how to enter events, travel, and budget. We will also provide management services to select riders.
Equipment: We teach our bull riding students about proper and necessary equipment.
Inspirational: We provide spiritual and inspirational resources to encourage positive choices and a fulfilling life.
Motivational Speaking: I speak at events, conferences, seminars, and schools with a motivational message from the perspective of a successful bull rider and rodeo athlete.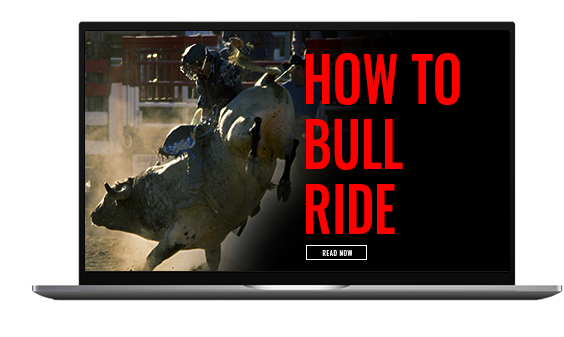 HOW TO BULL RIDE COURSE
Imagine being able to go step-by-step with Wiley as he teaches you the secrets he used to become a professional bull rider. He covers topics including mindset, fitness, technique, and practice strategies. This course is made for everyone, from the curious to the experienced.